Research article

Open Access
Top-down and bottom-up modulation in processing bimodal face/voice stimuli
BMC Neuroscience
2010
11:36
Received: 27 July 2009
Accepted: 11 March 2010
Published: 11 March 2010
Abstract
Background
Processing of multimodal information is a critical capacity of the human brain, with classic studies showing bimodal stimulation either facilitating or interfering in perceptual processing. Comparing activity to congruent and incongruent bimodal stimuli can reveal sensory dominance in particular cognitive tasks.
Results
We investigated audiovisual interactions driven by stimulus properties (bottom-up influences) or by task (top-down influences) on congruent and incongruent simultaneously presented faces and voices while ERPs were recorded. Subjects performed gender categorisation, directing attention either to faces or to voices and also judged whether the face/voice stimuli were congruent in terms of gender. Behaviourally, the unattended modality affected processing in the attended modality: the disruption was greater for attended voices. ERPs revealed top-down modulations of early brain processing (30-100 ms) over unisensory cortices. No effects were found on N170 or VPP, but from 180-230 ms larger right frontal activity was seen for incongruent than congruent stimuli.
Conclusions
Our data demonstrates that in a gender categorisation task the processing of faces dominate over the processing of voices. Brain activity showed different modulation by top-down and bottom-up information. Top-down influences modulated early brain activity whereas bottom-up interactions occurred relatively late.
Keywords
Gender Categorisation
Incongruent Stimulus
Bimodal Stimulus
Unimodal Condition
Face Task
Background
The ability to integrate information from several sensory modalities is a vital skill of the human brain, as information we receive from the external world is often multimodal. Although there has been a recent surge of research focusing on the processing of multimodal information, our knowledge of the neural substrates underlying this ability for complex stimuli in humans is still limited.
Researchers have used two main paradigms to investigate multimodal processing. One is designed to assess the perceptual gain of multisensory inputs by comparing the behaviour and the neural activity evoked by multimodal and unimodal inputs [1, 2]. The other paradigm assesses the competition between senses using bimodal stimuli which could be either congruent or incongruent; using incongruent stimuli can reveal the existence of a cross-modal bias [3]. These two approaches yield different information: the first determines the advantages and limits of multimodality, while the second provides information on sensory dominance and its influence on task performance. The present study investigates sensory competition or dominance in the processing of gender in bimodal face/voice stimuli.
Sensory dominance has been largely studied in terms of spatial localisation or temporal discrimination. The research approach of comparing congruent and incongruent bimodal stimuli has demonstrated that the influence of the senses is asymmetric and task-dependent. For example, in ventriloquism, the visual-spatial information biases the localisation of the source of auditory information toward the source of visual information [4–6]. The localisation of a visual stimulus is however, almost unaffected by simultaneous discordant auditory information [4]. In contrast, in the temporal domain, the auditory modality dominates the visual, i.e. when subjects judge temporal aspects of a stimulus (frequency of occurrence, temporal frequency, etc.), auditory stimuli modulate perceived information in the visual modality [7–9]. These results suggest that in the spatial domain, vision dominates audition, while in the temporal domain, the reverse is true [10]. Using emotional faces and voices, it has been demonstrated that a static face alters the perception of vocal emotion even when the task required ignoring the face [3, 11]. One aim of the present study was to determine if sensory dominance could be observed in the processing of faces and voices, i.e. is the influence of one sensory modality on the other equivalent or symmetrical in the perception of gender? To this purpose, we manipulated attention through task demands on congruent and incongruent face/voice stimuli.
Neural correlates of multimodal processing have been investigated using fMRI, PET and ERPs, with results showing that bimodal processing was task-sensitive [12]. As in the behavioural literature, various approaches have been used to study neural mechanisms underlying multimodal processing. Comparing the brain activity for bimodal stimuli to the sum of activity for unimodal stimuli (e.g., AV - (A+V)) revealed that congruent bimodal stimuli enhanced brain activity either in sensory-specific cortices [1, 13, 14] or in brain regions described as heteromodal [15]. The timing of this bimodal activation was very rapid, affecting brain processing within 40 ms [1, 16–18]. Even with more biological stimuli (sounds and pictures of animals), early interactions between visual and auditory processing were seen on the visual N1 component (~150 ms) [19].
Investigations of higher-level multimodal processing critical to human social interactions (faces and voices) have been less common, with most studies on face and voice integration focussed on speech processing. The interaction between visual and auditory stimuli in the speech domain is classically demonstrated by the McGurk effect [20]. As seen with simple bimodal object and spatial processing, there is a behavioural advantage of bimodal redundant speech [21]. Audiovisual integration of faces and voices has also been shown in non-human primates, as monkeys are able to match a face and a certain vocalisation [22], demonstrating its wider application to other social species. The small literature on face/voice interactions in a non-verbal context is largely focussed on emotional processing [23–25]. Emotion expression protocols have also been used with monkeys, as Parr (2004) showed, in a match-to-sample task, a modality preference depending on the expression to be matched [26]. Bidirectional interference in processing has been demonstrated with incongruent emotional voices and faces [27] suggesting no sensory dominance in the processing of emotions. Congruent emotional faces and voices enhance the auditory N1 [11, 25]; yet, in a bimodal speech perception study, the opposite was demonstrated, a reduced N1 to congruent bimodal stimuli [21].
Although face/voice associations to extract non-speech information have been rarely studied, there is a wealth of face and voice processing studies in unimodal paradigms. A large literature provides evidence that faces are processed through a distributed and hierarchical network [28]; neurophysiological studies provide latencies for the different stages of face processing. The N170 component is sensitive to a range of manipulations of faces [29–32] suggesting that it reflects automatic face processing [33, 34]. Earlier components have also been reported to be face-sensitive [35, 36].
Comparable studies have been completed with voices, often referred to as 'auditory faces' due to the similarity of information carried by faces and voices [37, 38], and have revealed that the processing of non-speech information of voices involved structures located along the right superior temporal sulcus. There are few ERP studies comparing voices to other auditory stimuli. Two papers report a positive deflection 320 ms after stimulus onset that is larger to voices than to musical instrument stimuli, labelled the Voice Selective Response (VSR) [39, 40]. A recent study comparing voices to various non-vocal sounds suggests that the voice/non-voice discrimination could occur earlier, in the latency range of the auditory P2, 160-240 ms [41]. The processing of faces and voices seems thus to draw on specialised and distinct brain regions and to have distinct temporal profiles.
The integration of information from faces and voices is a crucial skill that is essential for normal social interactions. Determining how cross-modal processing of faces and voices occurs will contribute significantly to our understanding of this critical human ability. Here we investigated the effects of attention on the perception of bimodal congruent and incongruent face/voice stimuli (see Figure
1
) using three gender judgement tasks. Gender discrimination is a common task in unimodal studies, as it requires some depth of processing, but is readily done. In the first task, subjects judged if the gender of the face and the voice were congruent or not. In the second and third tasks subjects categorised the bimodal stimuli by gender, in one case attending only to voices or, conversely, attending only to the faces. The same stimuli were used in the three tasks allowing us to determine effects due only to the task, i.e. top-down influence on the processing of bimodal stimuli. The directed attention aspects of the tasks allowed us to determine the influence of top-down modulation on multimodal processing, whereas the use of congruent and incongruent stimuli provided information on bottom-up stimulus-dependent processing. The use of only congruent and incongruent bimodal stimuli does not allow a direct comparison of responses to bimodal versus unimodal stimuli.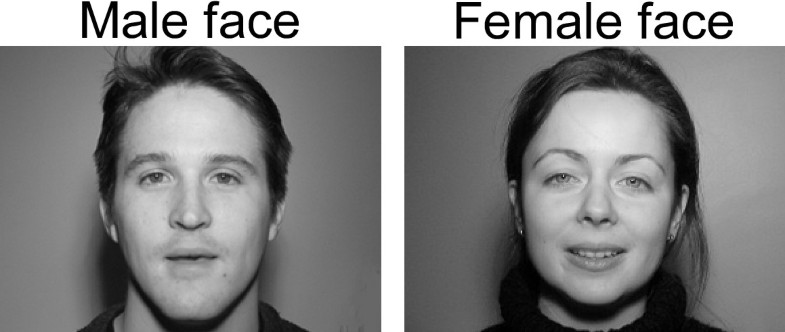 We hypothesized that if vision dominates over audition in gender perception, an incongruent face would disrupt the processing of voice gender while an incongruent voice would have less impact on the perception of face gender. On the other hand, if incongruence has a similar effect regardless of whether subjects performed the task on faces or voices, this would suggest an equivalent influence of the two senses on each other. We also hypothesized that directing attention to one or the other modality would modulate brain activity earlier than stimulus congruency. We showed that directing attention to only one modality modulated early ERPs that were more representative of the attended modality. The congruency task required the processing of both auditory and visual information and the pattern of cerebral activity reflected interaction effects. Comparing congruent and incongruent stimuli allowed us to show that faces dominate over voices in the integration of auditory and visual information of gender, and also demonstrated that bottom-up or automatic processing of the bimodal stimuli arose later (~180 ms) in right frontal regions.
Discussion
This study investigated the influence of top-down and bottom-up processes on the important human ability of integrating multimodal face/voice stimuli. Top-down influences were manipulated by the task requirements; stimuli were the same in all three tasks, only attentional instructions differed. Bottom-up influences were evident in the processing of congruent versus incongruent stimuli, i.e. how stimulus characteristics influenced the interaction between modalities.
Conclusions
We describe dominance of vision over audition in the perception of voice gender behaviourally and neurophysiologically. We observed that top-down influences modulated the processing of bimodal stimuli as early as 40 ms after stimuli onset, yet this influence depended on the preferential modality for the task, providing evidence for a visual bias in the case of face/voice gender categorisation. This bias may be reversed when studying speech perception - a hypothesis to be validated by further studies. Congruency in face and voice stimuli affected neural responses around 190 ms, suggesting that bottom-up multimodal interactions for gender processing are relatively late.
Declarations
Acknowledgements
Marianne Latinus was supported by la Fondation pour La Recherche Médicale (FRM, FDT20051206128). We thank Dr. Nancy J. Lobaugh for her generosity in allowing us full access to her ERP lab, and the help provided with the studies by Erin Gibson. We would like to thank Ian Charest and Guillaume Rousselet for their help in implementing the bootstrap analyses of the ERP data.
Authors' Affiliations
(1)
Université de Toulouse, UPS, CNRS, Centre de recherche Cerveau et Cognition, Toulouse, France
(2)
Centre for Cognitive Neuroimaging (CCNi) and Department of Psychology, University of Glasgow, Glasgow, UK
(3)
Diagnostic Imaging and Research Institute, Hospital for Sick Children, University of Toronto, Toronto, Canada
Copyright
© Latinus et al; licensee BioMed Central Ltd. 2010
This article is published under license to BioMed Central Ltd. This is an Open Access article distributed under the terms of the Creative Commons Attribution License (http://creativecommons.org/licenses/by/2.0), which permits unrestricted use, distribution, and reproduction in any medium, provided the original work is properly cited.