Research article

Open Access
Neural computation of visual imaging based on Kronecker product in the primary visual cortex
BMC Neuroscience
2010
11:43
Received: 15 June 2009
Accepted: 26 March 2010
Published: 26 March 2010
Abstract
Background
What kind of neural computation is actually performed by the primary visual cortex and how is this represented mathematically at the system level? It is an important problem in the visual information processing, but has not been well answered. In this paper, according to our understanding of retinal organization and parallel multi-channel topographical mapping between retina and primary visual cortex V1, we divide an image into orthogonal and orderly array of image primitives (or patches), in which each patch will evoke activities of simple cells in V1. From viewpoint of information processing, this activated process, essentially, involves optimal detection and optimal matching of receptive fields of simple cells with features contained in image patches. For the reconstruction of the visual image in the visual cortex V1 based on the principle of minimum mean squares error, it is natural to use the inner product expression in neural computation, which then is transformed into matrix form.
Results
The inner product is carried out by using Kronecker product between patches and function architecture (or functional column) in localized and oriented neural computing. Compared with Fourier Transform, the mathematical description of Kronecker product is simple and intuitive, so is the algorithm more suitable for neural computation of visual cortex V1. Results of computer simulation based on two-dimensional Gabor pyramid wavelets show that the theoretical analysis and the proposed model are reasonable.
Conclusions
Our results are:
1. The neural computation of the retinal image in cortex V1 can be expressed to Kronecker product operation and its matrix form, this algorithm is implemented by the inner operation between retinal image primitives and primary visual cortex's column. It has simple, efficient and robust features, which is, therefore, such a neural algorithm, which can be completed by biological vision.
2. It is more suitable that the function of cortical column in cortex V1 is considered as the basic unit of visual image processing (such unit can implement basic multiplication of visual primitives, such as contour, line, and edge), rather than a set of tiled array filter. Fourier Transformation is replaced with Kronecker product, which greatly reduces the computational complexity. The neurobiological basis of this idea is that a visual image can be represented as a linear combination of orderly orthogonal primitive image containing some local feature. In the visual pathway, the image patches are topographically mapped onto cortex V1 through parallel multi-channels and then are processed independently by functional columns. Clearly, the above new perspective has some reference significance to exploring the neural mechanisms on the human visual information processing.
Keywords
Receptive FieldVisual ImageRetinal ImageImage PatchPrimary Visual Cortex
Background
Human vision can be considered as a perfect image information processing device, it can easily recognize object's position, size, and orientation, pose in space, and so on. For a long time, visual scientists, computational neuroscientists, image processing experts and computer vision researchers make great effort to explore the neural mechanism of humans' remarkable visual abilities or how the retina image is represented in the primary visual cortex, which is related with the following two questions: what kind of neural computation is actually performed by the primary visual cortex, and how this is described mathematically.
It is well known that there is a one-to-one topographical mapping between retina and cortex V1, which determines projecting relations in visual space and represents some transformations from retina to cortex V1 [1–16]. Currently, it is believed that responses of neurons in cortex V1 can be simulated by a set of tiled spatio-temporal filters array. So the function of cortex V1 is to make a spatial local Fourier Transform. Theoretically, these filters involve many processes about spatial frequencies, orientations, motion and velocities (frequencies in temporal space) [17–23].
Is this notion consistent with the actual biological visual information processes? Research in neurobiology indicates that the metabolism and decay of neurons do not affect the visual function. Every neuron performs a simple ON-OFF function and transfers the information through spikes. So a dead neuron can easily be replaced by other nearby neurons [3, 24, 25]. In case of a complicated function, this replacement would be difficult. Therefore, the simplicity of algorithms not only reduces error rates to the minimum, but also guarantees repeatability and stability, i.e. robustness.
Complex computations can be carried out by parallel computations of neuronal groups with high efficiency. So we believe that the actual computations in retinal image must be simple, repeatable and robust and be performed by individual neurons at the system level and by neuronal groups with high efficiency. They are obvious requirements for neural computations in V1.
Then, how is the topographical mapping from retina to V1 be realized? Many neurobiological experiments and visual computational models show that when every primitive (edge, corner and contour) in the visual image finds matches in the receptive fields densely distributed on V1, only the neurons whose frequencies and orientations are similar to those of the primitive fire [26]. Therefore, the patterns of the fired neurons correspond to the primitives in the visual image, which may be represented by a topographical mapping, reflecting the adjustment of the visual image to neurons in V1, and reflecting distributive and parallel visual information processing between retina and V1[27, 28]. In this paper, we discuss the mathematical representation of this information processing and use the normalized matching measure (i.e. energy function) to measure the matching extent [29].
This paper proposes a model of neural information processing based on the topographical map in place of Fourier Transform. In this model, the functional columns are not considered as sets of tiled filters, but basis elements of the visual information, including orientation selectivity and feature matching [2, 30–32]. The visual image carried by spike trains is processed by Kronecker product with functional columns in V1. So synchronously parallel computations on the whole image can be performed by receptive field-to-receptive field rather than by pixel-to-pixel, and be represented by Kronecker product between matrixes. Its complexity is greatly reduced as compared with Fourier transform and other matrix computations [33, 34]. What is more, this algorithm can simulate stimulations of the elements in the visual image to cortical neurons as the embodiment of simple neural functions. The aggregative computation based on simple functions is one of plausible approaches of the visual cortex in realizing topographical mapping.
Numerical simulations are carried out to justify the above notions. In our experiments, receptive fields of neurons in V1 are simulated by hierarchical Gabor functions [35–40]. Visual image is the feature image of Lenna processed by pre-processing (filtered) in front of the pathway. Results of our algorithm are consistent with theoretical expectations.
Results
The visual pathway ('what' pathway [41]) from retina across LGN to V1 is modelled. The following discussions are focussed on: 1. the optimal detection in V1 of retinal image R(x, y); 2. the optimal matching between R(x, y) and firing pattern of neuronal groups in V1; 3. Kronecker product obtained by optimal detection and matching; 4. determination of kernel function G(x, y); 5. realization of Kronecker product; 6. numerical experiments and discussions.
Discussion
Currently, it is widely believed that simple cells densely distributed in V1 function similarly as a tiled set of selective spatio-temporal filters, while V1 carries out operations similar to the local complex Fourier transform. Theoretically, various kinds of neural processing about frequency, orientation, motion and other spatio-temporal operations can thus be performed [49, 50].
In this way, the responding property
Φ
(
x
,
y
)
λ,σ,θ,φ,γ
in V1 is realized by a convolution between image
R
(
x
,
y
) and receptive fields
G
(
x
,
y
)
λ,σ,θ,φ,γ
[
39
].
That is to say, G(x, y) λ,σ,θφ,γ is taken as a template to scan the whole image R(x, y) from above to bottom and from left to right. For example, if G(x, y) λ,σ,θ,φ,γ is a horizontal orientation receptive field, it will match to many edges with a similar orientation in R(x, y), so many cells in V1 are activated. The activated pattern Φ(x, y) λ,σ,θ,φ,γ is shown in Figure 3. A similar activated pattern corresponding to a vertical edge is shown in Figure 3(b). This is not an effective method for it stimulates too many responses of relative cells and costs a large amount of energy [51].
While in our case, in order to reconstruct retinal image [Ri,j(a)]M × N, we only calculate activated pattern ϕi,j(b) = ri,j(2 h a)Bk,l(s) of the receptive field stimulated by every patch ri,j(a) according to formula (15), and then the location of every patch is determined according to the topological mapping to V1 according to formulas (17) and (18). Finally, the whole activated pattern [Φi,j(b)]M × Nstimulated by image [Ri,j(a)]M × Nis obtained. Obviously, the related computation is much less complicated, which thus is more consistent with the multi-channel parallel processing mechanism in biology vision.
In order to compare computational complexity of the two ways of computation, we discretize formula (22) as
Every element ϕ(i, j) in array [Φi,j(b)]M × Ninvolves M × N times of calculations, making the total calculations for all elements as M2 × N2.
While in our case, the main computation is ϕi,j(b) = ri,j(2 h a)Bk,l(s), so the total number of calculations are M × N × K × L (K <<M, L <<N). So the computation of Kronecker product is much less complicated than that of convolution.
We already noticed that a number of other researchers have developed linear-nonlinear models based on response properties of visual neurons [52, 53], or on optimal nonlinear transformation [54]. In essence, they are a combination of linear filtering and divisive inhibition model; all of the models have been used to model the nonlinear responses of visual neurons and primary visual cortex. In terms of our proposed model, as already pointed out that theoretical analysis and simulated results show that at the system level, the inner product operator reflects the nature of the excitation of neurons in the cortex V1 by local characteristics of the external stimuli. This is also a plausible assumption for neural computation in the cortex V1. Therefore, it may have some reference value in investigations of neural mechanisms in visual information processing.
Conclusions
It is understood that the retinal image must be in one-to-one correspondence with cortex V1, for all subsequent processing will extract information from V1 and the information kept in V1 is vital. Only in this way, the brain can perceive a vision through the retinal image with high fidelity. Neurophysiology shows that when a retinal image topographically projects to the visual cortex, corresponding neurons will be activated. The whole activated pattern is a copy of the retinal image with high fidelity. In view of signal processing, product ri,j(2 h a)Bk,l(s) means that receptive fields gi,j(b) in V1 are activated when stimulated by retinal image ri,j(a). Therefore, this operator is consistent with this neurobiology mechanism. It involves both the simple function of a single neuron and the population function of neuronal groups. ϕi,j(b) is the local activated pattern corresponding to patch ri,j(a). Different stimuli produce different activated patterns of neuronal groups. The signals activated by details in visual stimuli are much weaker than those activated by contours. According to our understanding of the precise reconstruction of retinal images in the visual process, and based on multi-channel parallel processing features of the visual pathway, a visual image is divided into basic image units (patches) or primitives, which are topographically mapped onto the visual cortex by a one-to-one correspondence, by means of multiplication computing, features contained in image's primitives can be extracted by thousands of visual cortical modules in parallel and synchronously, where only an inner product (or Kronecker product)is needed, then an image will be formed in the primary visual cortex. This algorithm is simple, efficient and in line with the current knowledge about the neural mechanism of visual information processing, the mathematical description is also appropriate to the visual neural computation.
Visual information processing that is actually carried out in V1 is very important, but so far our knowledge of it at the system level remains inadequate [55–57] apart from Hubel and Wiesel's discovery [43] in the 1960s and Field and Olshausen's sparse coding theory [58] in the 1990s. Therefore, the neural computation model based on available knowledge about structure and function of V1 [59–65], presented in this paper may throw some light towards that direction, of course, will require further proof in neurobiology.
The next step of the studies on the visual information processing will be focussed on functional modules in cortex V1.
Methods
In numerical simulations, according to a resolution of 10°/50 μm, we divide orientations of receptive fields in function columns into 18 parts ranged from 0° to 180° with a same interval of 10°, i.e. 10°,200°,
⋯
,180°. Eight types of receptive fields are chosen in Gabor function
G
(
x
,
y
)
λ,σ,θ,φ,γ
according to formula (8); the result is shown in Figure
7
.

Figure 7. Three representations of eight types of receptive fields in function columns in V1 calculated by Gabor function, in which orientations 0°, 10°, 20°, ⋯, 180° in turn.
And the arrays
B
k,l
(
s
) are formed according to formula (13). Then the test image Lenna is divided into
M
×
N
patches according to formula (11). The activated pattern of every receptive field
ϕ
i,j
(
b
) stimulated by a patch
r
i,j
(
a
) is calculated by formula (14). The whole activated pattern [
Φ
i,j
(
b
)]
M × N
stimulated by [
R
i,j
(
a
)]
M × N
is processed by formulas (16) and (17). A simulated example of the whole activated pattern is shown in Figure
8
.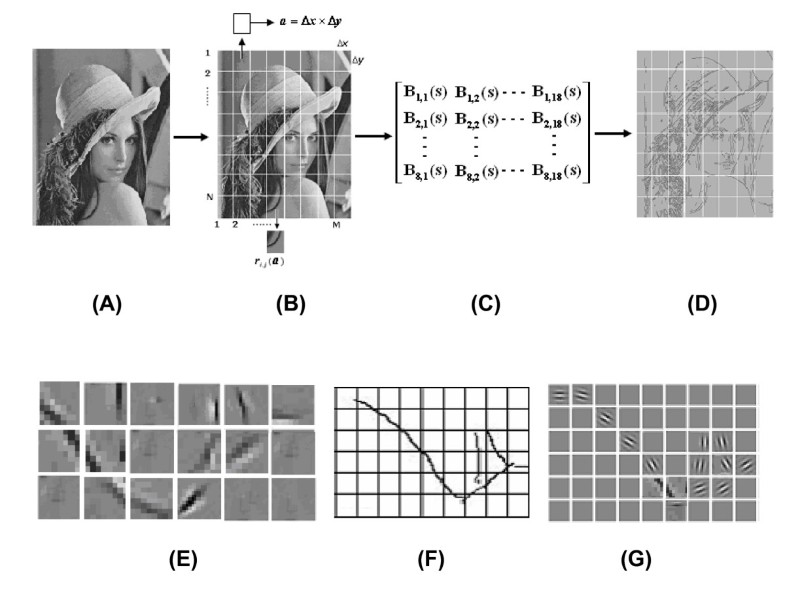 Figure 8. Image reconstruction by topological mapping and Kronecker product (A)Source image Lenna; (B)Retinal image [Ri,j(2 h a)]M × N; (C) Receptive fields array Bk,l(s) of functional columns in V1; (D) The whole activated pattern of receptive field image [Φi,j(b)]M × N; (E), (F) and (G) A part of activated pattern [Φi,j(b)]M × Nin V1 calculated by formulas 14-16 (upper right corner of the hat).
In numerical experiments, we also consider the case when a part of cortex is damaged, i.e. functional columns at these locations do not function as they should in the image processing. We assume that the damaged positions are those with
i
= 5,
j
= 9;
i
= 7,
j
= 2;
i
= 11,
j
= 15. The corresponding result is shown in Figure
9
. It can be seen that the damaged functional columns do not affect the integrity of the image, for other columns have made compensation for the damaged ones.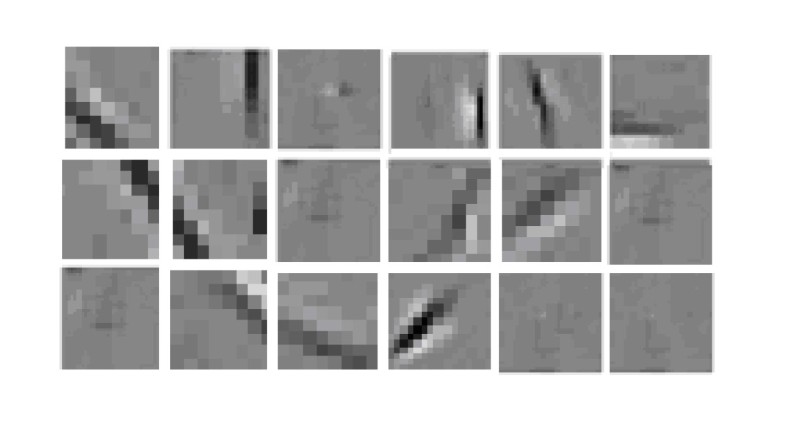 Figure 9. Result (only of the upper right part of the hat shown) corresponding to the damaged function columns at i = 5, j = 9; i = 7, j = 2; i = 11, j = 15.
Declarations
Acknowledgements
The authors appreciated help from Li Weige and Wang Keren for their assistance in English editing for this manuscript and would like to thank the anonymous reviewers for their detailed comments and helpful suggestions which improved the quality of our manuscript. This work was supported by the NSFC of China (Grant no. 60902058, 60371045, 60905063 & 60931003). Authors declare they have no conflict of interest.
Authors' Affiliations
(1)
LAPC, Institute of Atmospheric Physics, Chinese Academy of Sciences, Beijing, China
(2)
Department of Computer Science, Beijing Jiaotong University, Beijing, China
(3)
fMRI Center of Brain's function, Beijing 306 Hospital, Chinese People's Liberation Army, Beijing, China
(4)
College of Information Science, Peking University, Beijing, China
(5)
State Key Laboratory of Cognitive Neuroscience and Learning, School of Information Science and Technology, Beijing Normal University, Beijing, China
Copyright
© Songnian et al; licensee BioMed Central Ltd. 2010
This article is published under license to BioMed Central Ltd. This is an Open Access article distributed under the terms of the Creative Commons Attribution License (http://creativecommons.org/licenses/by/2.0), which permits unrestricted use, distribution, and reproduction in any medium, provided the original work is properly cited.