Research article

Open Access
The role of the cytoskeleton in cell body enlargement, increased nuclear eccentricity and chromatolysis in axotomized spinal motor neurons
Received: 10 November 2004
Accepted: 17 March 2005
Published: 17 March 2005
Abstract
Background
When spinal motor axons are injured, the nucleolus, nucleus and cell body of the injured cell transiently increase in size, the nucleus becomes more eccentrically placed, and the organization of polyribosomes into Nissl bodies is temporarily disrupted. The mechanisms for these classical morphological responses to axotomy have not been satisfactorily explained.
Results
In this study we address the role of the cell body cytoskeleton in these structural changes. We show that the cytoskeleton of uninjured lumbar motor neuron cell bodies maintains nucleolar, nuclear and cell body size and nuclear position. When isolated, the relatively insoluble cell body cytoskeleton contains Nissl bodies and lipofuscin granules. After axotomy, protein labeling increases markedly and the cytoskeleton enlarges, increasing nucleolar, nuclear and cell body size, as well as nuclear eccentricity. Nearly all of the protein mass that accumulates in the cell body after axotomy appears to be added to the cytoskeleton.
Conclusion
We conclude that axotomy causes the conjugate enlargement of the nucleolus, nucleus and cell body and increases nuclear eccentricity in spinal motor neurons by adding protein to the cytoskeleton. The change in nuclear position, we propose, occurs when cytoskeletal elements of the axon cannot enter the shortened axon and "dam up" between the nucleus and axon hillock. As a consequence, we suggest that Nissl body-free axonal cytoskeleton accumulates between the nucleus and axon, displaces Nissl body-containing cytoskeleton, and produces central chromatolysis in that region of the cell.
Keywords
Cell Body
Motor Neuron
Spinal Motor Neuron
Lipofuscin Granule
Nissl Body
Background
Injury to the axon of spinal motor neurons produces major structural changes in the affected cell body. These changes include a transient enlargement of the nucleolus, nucleus and cell body, an increase in nuclear eccentricity and central chromatolysis, which is a centrifugal disappearance of polyribosome-containing Nissl bodies. While known and explored for over a century, these morphological responses to axotomy have not been adequately explained.
It has been proposed that enlargement of the motor neuron cell body after axotomy is caused by the entry of water into the cell bodies, possibly the result of an early increase in osmotically-active hydrolytic products of macromolecules within the motor neurons [1]. On the other hand, the gradual increase in total protein and RNA observed in axotomized motor neurons cell bodies [2, 3] could also play a role in their enlargement after injury. That the nucleolus, nucleus and cell body enlarge together after axotomy suggests that their sizes may be coordinated, especially since a similar scaling is observed in normal, non-injured motor neurons of increasing size [4] and in motor neurons exposed to excess growth hormone [5]. It is noteworthy that the nucleus, nucleolus and cell body do not each enlarge after axotomy in all types of neurons capable of axon regeneration, implying that an increase in size may not be required for regrowth of the axon [6].
The repositioning of the nucleus in injured motor neurons was quantified by Barr and Hamilton [1], who, like others [7, 8], found that the direction of increased nuclear eccentricity in motor neurons was usually away from the axon hillock. Suggested mechanisms for increased nuclear eccentricity include a selective influx of water into the area of the axon hillock [1] and interference with axonal transport, leading to the accumulation of axonal constituents in the injured cell body [6].
Central chromatolysis also develops progressively in the region between the nucleus and axon hillock after axotomy [6]. The gradual disappearance of Nissl bodies from the perinuclear region towards the periphery of the cell body and the concomitant loss of basophilic staining of RNA occur even as the radiolabeling and total content of RNA increase [6]. Neither the molecular basis of chromatolysis nor the reason for its appearance and centrifugal spreading between the nucleus and axon hillock is known.
In this study, we first show that the size and shape of normal, non-injured frog motor neuron cell bodies are maintained by a cytoskeleton that can be isolated. We then provide evidence that axotomy increases the synthesis and total content of proteins in the cytoskeleton, which appears to alter its structure and produce nucleolar, nuclear and cell body enlargement. We further show that the cytoskeleton maintains nuclear position in the uninjured cell body and is altered by axotomy to increase nuclear eccentricity. Finally, we propose that both nuclear eccentricity and central chromatolysis result from an accumulation of axonal cytoskeleton that is impeded from entering the truncated axon.
Conclusion
We have shown that nucleolar, nuclear and cell body volume in spinal motor neurons, as well as nuclear position, is maintained by the cytoskeleton. The isolated cytoskeleton, whose protein composition has not been determined, contains slightly less than one-half of the total cell body protein. The cytoskeleton is a filamentous lattice that is most clearly seen by transmission electron microscopy in resinless thin sections. Nissl bodies are associated with the isolated cytoskeleton, as are lipofuscin granules, which may be caged within the filamentous lattice.
Axotomy increases nucleolar, nuclear and cell body volume, largely by altering the cytoskeleton. The likely cause of the injury-induced enlargement is the addition of new protein to the cell body cytoskeleton. Axotomy also increases nuclear eccentricity by altering the cell body cytoskeleton. We postulate that both increased nuclear eccentricity and central chromatolysis in axotomized spinal motor neurons are consequences of damming up of Nissl body-free axonal cytoskeleton between the nucleus and axon hillock.
Methods
Surgical procedures
All ventral root transections were performed on adult southern grass frogs (Rana pipiens) of both sexes, purchased from Carolina Biological Supply, Burlington, NC. The left 9th and 10th ventral roots were transected 6–9 mm from the spinal cord via a dorsal laminectomy under general anesthesia (135 mg Finquel/kg body wt.). Animals were allowed to survive for up to 20 days before isolation of motor neuron cell bodies. Pre- and postoperative care and euthanasia by decapitation were conducted under institutional review in accordance with AVMA standards.
Cell body isolation
Figure
8
illustrates the procedure used to isolate motor neuron cell bodies from unfixed frog lumbar spinal cord [
10
]. Small pieces of
R. pipiens
lumbar spinal cord were first cryoprotected with 70% ethylene glycol and frozen at -80°C. Cryoprotection improves the quality and yield of motor neurons [
28
] and permits storage of tissues until needed. After thawing, the tissue was suspended in 0.9 M sucrose in 1.7 mM sodium citrate buffer (pH 5.0) containing 15 mM glucose and expressed through nylon bolting cloth of 202 μm pore size. Nylon cloth with pores of 351 μm on a side was used for the larger human motor neurons. The cell bodies were then centrifuged in a discontinous sucrose gradient to obtain a crude neuronal fraction, from which individual cell bodies were removed with a glass pipette, rinsed twice in 1.5 M sucrose and pooled with other purified cell bodies. Motor neurons were identified by their distinctive size, shape and biochemical profiles [
29
]. In each experiment, 100–400 cells were collected from the lumbar spinal cord of three grass frogs.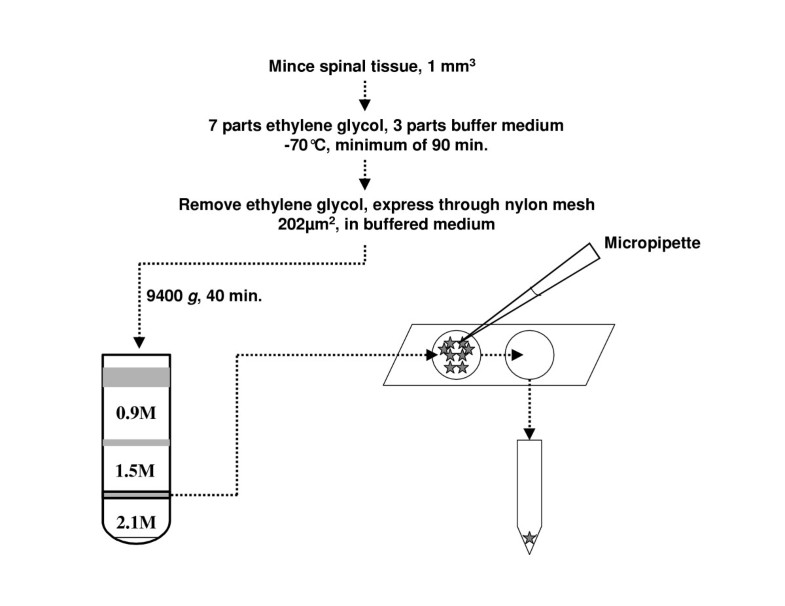 Cytoskeleton isolation
Cytoskeletons from isolated motor neuron cell bodies were obtained by serial extraction of soluble proteins, using a modification of the method of He et al. [12]. The buffer solution used in each step of the extraction procedure contained 50 mM HEPES (pH 7.4), 250 mM sucrose, 250 mM NaCl, 10 mM MgCl2, 1.2 mM phenylmethanesulfonyl fluoride, and 1 mM EGTA. The sample was exposed to 100 μl of ice-cold 0.5% Triton X-100 in extraction buffer, 35 μl of DNAase (100 μg/ml) treatment for 30 minutes at 24°C., followed by two rinses in 100 μl of chilled buffer alone, and extraction with 100 μl of chilled 0.25 M (NH4)2SO4, and then 2 M NaCl. After each step, the cell bodies were centrifuged at 1,000 × g for 3 minutes.
Morphometry
The volume of isolated motor neuron cell bodies was quantified using images from a Leitz Diavert microscope equipped with a Fairchild CCD 3000 camera and analyzed with a Technology Resources Imagemaster 1000. Cell body volume was calculated as the product of the mean of three measurements of cell body area and the mean of the height at the center and opposite ends of the cell body. The cylindroidal shape of the cell body was determined from measurements of the z-axis in 120 cells suspended in 1.2 M sucrose and viewed between two coverslips with DIC optics. At the center of the cell body, the z-axis averaged 19.3 ± 6.5 μm and was only 102.3 ± 2.2% and 98.6 ± 4.7% of that value, respectively, at opposite ends of the cell body. In five separate experiments, the z-axis was 72 ± 7% as long as the average cell body radius. The flatness of the cell bodies was not induced by pressure from the apposed coverslips, since it was also observed in cells tumbling slowly in a droplet of buffer. Nucleolar and nuclear volumes were calculated as spheres, using the mean radius from three measurements of nucleolar or nuclear area.
Nuclear eccentricity was measured by the method of Barr and Hamilton [1], using the formula [AC÷(AB-CD)] × 100%. A-D are points along a line from the center of the cell body (A) through the center of the nucleus (C) to the cell periphery (B). AC is the distance between the centers of the cell body and nucleus (each computed from their areas by the software program). AB is the distance between the center of the cell body and its periphery and CD is the distance between the center of the nucleus and the nuclear lamina. Nuclear eccentricity of zero means the centers of the nucleus and cell body are identical, while 100% eccentricity refers to nuclei in contact with the cell body perimeter.
Confocal microscopy
Human motor neuron cell bodies were isolated from lumbar or cervical spinal tissue obtained at autopsy from an individual without neurological disease. Cell body cytoskeletons prepared by the procedure outlined above were stained for 3 min. with 0.0032% methylene blue and examined with a Leica TCS-NT confocal microscope.
Electron microscopy
Intact, resinless thin sections of cytoskeletal preparations from isolated motor neuron cell bodies are technically difficult to obtain. Thus, lumbar spinal tissue from adult frogs was examined after extraction by the method used for isolated cell bodies with slight modifications. Segments of longitudinally hemisected lumbar spinal tissue 1–2 mm long were exposed sequentially to HEPES-buffered 0.5% Triton X-100, 0.25 M (NH4)2SO4 and 2 M NaCl and fixed in 2.5% glutaraldehyde. To minimize myelin swelling, the segments were kept on ice and DNAase treatment was omitted.
Embedment was carried out at 72°C in increasing concentrations of diethyleneglycol distearate (DGD; Electron Microscopy Sciences, Fort Washington, PA, USA) from which 90% of the acetone-soluble contaminants had been removed. Thin sections were then cut on the DGD-embedded tissue, placed on Formvar-coated, carbon-stabilized grids and the DGD removed with dry n-butanol for 1 hour × 3 at 40°C. The resinless sections were then transferred stepwise into absolute ethanol and dried through the CO2 critical point after 6 wash cycles in a Balzers apparatus.
Transmission electron microscopy was performed at 80 kV with a Zeiss EM 10 CA microscope. Negatives were digitized and image contrast and brightness were adjusted electronically. In other experiments, plastic sections were cut from extracted spinal tissue embedded in Spurr's low viscosity Epon following fixation in 2.5% glutaraldehyde and 1% osmium tetroxide and were post-stained with 1% uranyl acetate and Reynolds' lead citrate.
Protein analyses
After TCA precipitation, using a modification of the method of Bensadoun and Weinstein [30], total cell body protein content was measured by the micro method of Lowry et al. [31], standardized to bovine serum albumin. A total of 200 to 300 cell bodies was used for each analysis. Triplicate samples of 1.5 M sucrose from the second rinse step were taken from regions near the purified cell bodies and used as "blanks" for the protein assay.
Radiolabeling of motor neuron proteins with 3H-leucine prior to cell body isolation was carried out on unoperated control and 16-day axotomized frogs, using the method of McIlwain and Hoke [32]. Briefly, longitudinal sections of lumbar spinal tissue from six unoperated frogs or from the ipsilateral side of six axotomized frogs were incubated in a Yellow Springs Instrument oxygen monitoring apparatus (Yellow Springs, OH, USA) at 17°C for 16 h in frog Ringer solution containing 1 mCi/ml of 3H-L-leucine. After rinsing and cryoprotecting the radiolabeled tissue, 40–200 cell bodies were isolated as described above and, in some experiments, their cytoskeletons were obtained before their radioactivity was measured by liquid scintillation counting.
Declarations
Acknowledgements
We thank Anahid Kavookjian, Hal Mekeel, Vicky Madden and Bob Bagnell for their assistance with aspects of the electron microscopy and Neil Kramarcy and Michael Chua for their assistance with the confocal microscopy. This study was supported by grants to DLM from the UNC University Research Council and the UNC Medical Alumni Endowment Fund and by contributions to the Jim O'Shea Fund for ALS Research.
Authors' Affiliations
(1)
Department of Cell and Molecular Physiology, University of North Carolina School of Medicine, Chapel Hill, USA
(2)
Biomedical, Biotechnology Research Institute, North Carolina Central University, Durham, USA
Copyright
© McIlwain and Hoke; licensee BioMed Central Ltd. 2005
This article is published under license to BioMed Central Ltd. This is an Open Access article distributed under the terms of the Creative Commons Attribution License (http://creativecommons.org/licenses/by/2.0), which permits unrestricted use, distribution, and reproduction in any medium, provided the original work is properly cited.