Research article

Open Access
A naturally occurring omega current in a Kv3 family potassium channel from a platyhelminth
Received: 14 September 2007
Accepted: 19 June 2008
Published: 19 June 2008
Abstract
Background
Voltage-gated ion channels are membrane proteins containing a selective pore that allows permeable ions to transit the membrane in response to a change in the transmembrane voltage. The typical selectivity filter in potassium channels is formed by a tetrameric arrangement of the carbonyl groups of the conserved amino-acid sequence Gly-Tyr-Gly. This canonical pore is opened or closed by conformational changes that originate in the voltage sensor (S4), a transmembrane helix with a series of positively charged amino acids. This sensor moves through a gating pore formed by elements of the S1, S2 and S3 helices, across the plane of the membrane, without allowing ions to pass through the membrane at that site. Recently, synthetic mutagenesis studies in the Drosophila melanogaster Shaker channel and analysis of human disease-causing mutations in sodium channels have identified amino acid residues that are integral parts of the gating-pore; when these residues are mutated the proteins allow a non-specific cation current, known as the omega current, to pass through the gating-pore with relatively low selectivity.
Results
The N.at-K v 3.2 potassium channel has an unusual weak inward rectifier phenotype. Several mutations of two amino acids in the voltage sensing (S4) transmembrane helix change the phenotype to a typical delayed rectifier. The inward rectifier channels (wild-type and mutant) are sensitive to 4-aminopyridine (4-AP) but not tetra-ethyl ammonium (TEA), whereas the delayed rectifier mutants are sensitive to TEA but not 4-AP. The inward rectifier channels also manifest low cation selectivity. The relative selectivity for different cations is sensitive to specific mutations in the S4 helix,
Conclusion
N.at-K v 3.2, a naturally occurring potassium channel of the Kv3 sequence family, mediates ion permeation through a modified gating pore, not the canonical, highly selective pore typical of potassium channels. This channel has evolved to yield qualitatively different ion permeability when compared to all other members of this gene family.
Keywords
Voltage Sensor
Hyperpolarized Potential
Permeation Pathway
Delayed Rectifier
Rectifier Channel
Background
When voltage-gated potassium channels are activated, the S4 voltage sensor helices translocate and rotate a short distance within a gating-pore [1–4]. This restricted conformational change moves a number of charges across the membrane electrical potential field. Movement of S4 segments may be as little as 4 Å, and is augmented by the electric field being focused and swept across some of the N-terminal charges on each S4 segment as the voltage sensor moves [2, 5]. The gating pore includes an aqueous canal, contiguous with the intracellular solution located at the interface of the pore and voltage-sensing domains [4, 6–8], that acts to focus the local electric field within the membrane across a small portion of the S4 voltage sensor [9]. A small, ~3Å, hydrophobic septum that acts as a barrier to ion current through the gating pore is maintained by interactions between S4 and the rest of the voltage sensing domain [2, 10–13].
The N-terminal arginine (R1) in the S4 segment of the D. melanogaster Shaker channel sterically hinders ion passage through the gating-pore [12]. Substitution of the first arginine (R1) in the voltage sensor with histidine, R362H, allows a H+ current to flow at hyperpolarized, subthreshold potentials [2], while anR371H mutant allows a proton flux at depolarized potentials [14]. Mutations of the R1 (R362) position in Shaker to alanine, cysteine, serine, and valine allow influx of a non-selective cation current, the "omega current", through the gating pore [12, 15]. Recently a gating-pore mutation in the sodium channel Nav1.4, has been implicated as the molecular basis of hypokaelemic periodic paralysis [16]. In this channel, mutation of residues R2 or R3 in one of the four S4 helices allows an influx of cations through the aqueous gating-pore along the length of S4. The omega current in both cases is present only when the channel is in a hyperpolarized conformation. When the channel is in a depolarized conformation, the omega pore closes and the canonical ion-selective pore opens.
The flatworm channel
N.at-Kv3.2
is a weak inward-rectifier that is open at hyperpolarized potentials, but exhibits mild rectification, limiting the efflux of potassium, at more depolarized potentials [
17
]. The amino acid sequence of
N.at-Kv3.2
resembles other Shaker superfamily channels, in particular the Shaw (Kv3) family [
17
]. However, the voltage sensor in
N.at-Kv3.2
differs from other Kv channels in that the first (R1) and third (R3) basic residue positions are not arginine or lysine, but histidine (H325) and glycine (G331) respectively (Figure
1
). Despite the highly conserved canonical pore domain,
N.at-Kv3.2
is permeable to a number of cations including potassium, caesium, lithium, guanidinium and, to a limited extent, barium and sodium. This channel's low ion selectivity raised the possibility that the current mediated by
N.at-Kv3.2
might be passing through a permeability pathway other than the canonical selectivity filter, and the presence of two unusual amino acids in S4 suggested that this pathway could be a naturally occurring equivalent of the modified gating-pore that gives rise to the omega current in Drosophila Shaker channel mutants.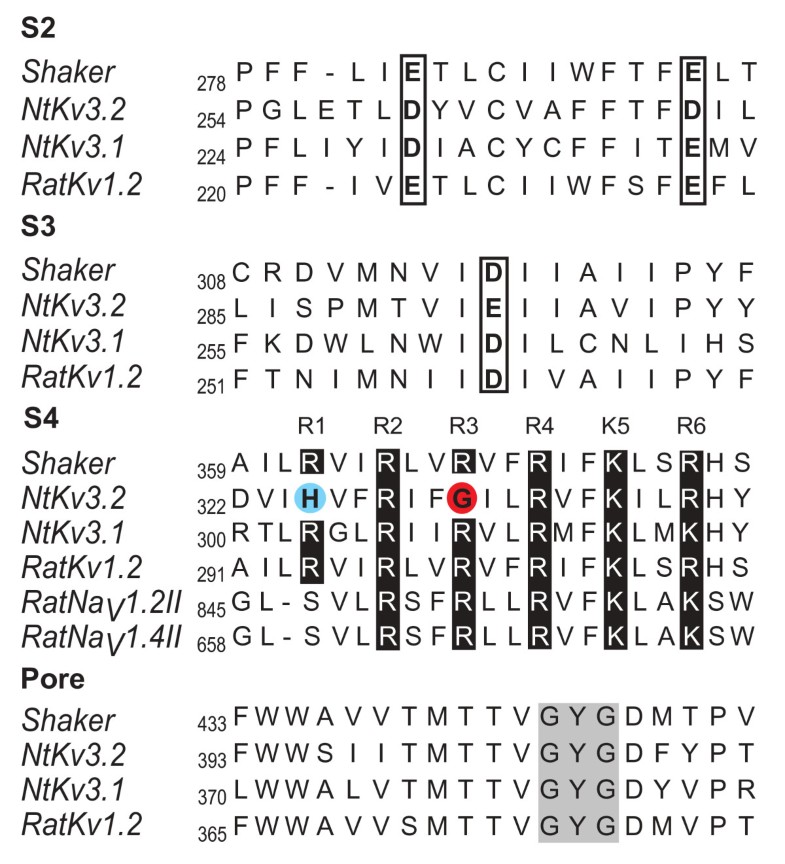 Conclusion
The inwardly rectifying 6TM K v channel, N.at-K v 3.2 has evolved to utilize an ion permeation pathway other than the canonical pore, which is also present. We provide evidence that the alternate pathway is derived from the gating pore.
We show that 4-AP does not block K+ current in the delayed rectifier mutants that are sensitive to TEA (Figure 4), and conversely, that TEA does not block K+ current in the wild-type, weakly inward rectifying channel (Figure 4). We show that in channels that manifest a combination of the two types of permeability, only the outward current, at +70 mV, is affected by TEA, not the inward current, at -140 mV. Thus, it is clear that we are looking at two distinct ionic conduction pathways in this study, and that 4-AP is blocking the non-canonical pathway. The alternative interpretation, that the various mutations are acting by changing the canonical pore, would require fully reciprocal switching between 4-AP sensitivity and TEA sensitivity of the channel that is also correlated with an unprecedented loss of ion selectivity by the highly conserved canonical K+ channel pore.
This unique permeation mechanism has evolved through changes to the basic residue content of the S4 helix, thus modifying the electrostatic interactions between the S4 voltage sensor and surrounding helices. The proteinaceous septum formed by the S1, S2, S3 and S4 helices, at the interface of the extracellular and intracellular aqueous vestibules of the gating-pore, is not present in N.at-K v 3.2. We have demonstrated that the accessibility, shape and function of the gating-pore can be modified, and that the selectivity of the gating-pore pathway is related to ionic size and chemical properties of the permeant ion as well as localized protein packing and side chain interactions.
These results raise a novel possibility for functional evolution of ion channels. The omega current pathway has evolved in N.at-K v 3.2 to produce a non-selective cation channel that is open at hyperpolarizing potentials. This is an example of a distinctive molecular functionality arising, not by quantitative variation of an existing molecular property, but rather by creation of a new molecular property. It may be that other hyperpolarization-activated, non-selective cation channels have evolved in other organisms by similar changes in one of the more typical voltage-activated ion channels.
Methods
Expression plasmids
The full-length N.at-Kv3.2 channel in pXT7 was used as a template for overlapping PCR site-directed mutagenesis [29] at amino acids 325 and 331. Double mutants were generated by ligating small fragments containing the various mutations at position 325 into plasmids containing the different mutants at position 331, using convenient restriction sites. All mutant plasmids were fully sequenced to confirm the desired mutation and the absence of PCR induced mutations.
Plasmids were linearized with XbaI and gel purified. Capped mRNAs were prepared by in vitro transcription using an mMessage mMachine (Ambion) T7 polymerase kit, and stored at -80°C.
Oocyte preparation
An ovary removed from a 2 year old Xenopus laevis female was manually separated into half-centimeter clumps, rinsed three times in MBM (in mM: NaCl 88, KCl 1, Ca(NO3)2 0.33, CaCl2 0.41, MgSO4 0.82, NaHCO3 2.4, HEPES 10, sodium pyruvate 2.5, supplemented with penicillin G 0.1 g/L and gentamycin sulfate 0.05 g/L (pH 7.5 with Tris Base) [30]), incubated on a rotating shaker for 2 h in 2 mg/ml collagenase 1A (Sigma) in MBM at room temperature, rinsed in MBM and incubated, ~200 eggs/glass scintillation vial, at 17°C overnight in fresh MBM. Eggs were de-folliculated by immersion in a hypo-osmotic phosphate buffer (in mM: K2PO4 100 (pH 6.5 with HCl)) for 1 h and were left for 2 h in fresh MBM to recover prior to manipulation.
Mature stage V-VII oocytes were injected with 48.6 nl mRNA (200–600 ng/nl) and incubated in SOS+ (in mM: NaCl 96, KCl 2, CaCl2 1.8, MgCl2 1, HEPES 5, sodium pyruvate 2.5 (adjusted to pH 7.4), supplemented with 3% horse serum (Sigma) and gentamycin sulfate 0.01 g/ml) at 17°C.
Two-electrode voltage clamp electrophysiology
Electrophysiological measurements were performed 1 day after injection for all channels except G331R, G331K, H325A, H325S, H325C, and H325R and G331K+H325R. These channels required 2 days of incubation to obtain measurable levels of current. Oocytes were impaled with glass microelectrodes fabricated from borosilicate glass, filled with 3 M KCl and having a resistance of 0.5 to 1 MΩ. Experiments were driven by a GeneClamp 500B amplifier (Axon Div., Molecular Devices) controlled by pClamp 9.0 software (Axon Div., Molecular Devices). Data were acquired through a 1322A Analogue/Digital converter and analyzed using Clampfit 9.0 (Axon Div., Molecular Devices).
Experiments were performed in ND96 (in mM: NaCl 96, KCl 2, CaCl2 1.8, MgCl2 1, HEPES 5, pH 7.4). Recordings on inward rectifier channels and combined delayed rectifier/inward rectifier channels measurements were performed without leak subtraction. Data for the delayed rectifier channels was obtained with leak subtraction (P/N = 4).
Steady-state currents for inward rectifier and delayed rectifier/inward rectifier channels were elicited by holding the oocyte at -90 mV for 50 ms, followed by a series of 400 ms depolarizations from -140 mV to +90 mV in 10 mV steps, followed by a return to a -90 mV holding potential.
Steady-state currents for delayed rectifier channels were elicited by holding the oocyte at -90 mV for 50 ms, followed by a series of 200 ms depolarizations from -140 mV to +90 mV in 10 mV steps followed, by a return to a -90 mV holding potential.
Current/voltage measurements were taken 10 ms before the capacitative transient at the end of the activation step. Data from individual experiments were normalized to an arbitrarily chosen single experiment by multiplying the individual current readings by the ratio of the sums of the currents measured from -140 mV to -90 mV.
To fit to the Boltzmann equation for channels that manifested a combination of inward rectifier and delayed rectifier properties, the inward component of the currents for the G331K double mutants was ignored. Steady state tail currents for traces at or near the reversal potential and subsequent traces through the depolarized voltage range were obtained, normalized and plotted against the voltage step that elicited the current. These conductance voltage plots were then fitted to the Boltzmann equation, with a y offset to accommodate the elevated conductance near the reversal potential, to obtain values for V50 and slope factor.
Ion permeability
Perfusion experiments were performed to test ion permeability. In these ion substitution experiments the bath contained a 100 mM solution of a single cationic salt, guanidinium chloride (GuCl), LiCl, CsCl, NaCl, KCl, or BaCl2, and, in mM; HEPES 10; EDTA 1; pH 7.6. The relative permeability of each ion relative to the permeability for K
+
was calculated from the reversal potentials measured for the respective ions using the equation:
for divalent cations [34]. We found that incubation with Ba++ caused large changes in permeability to other ions, so Ba++ was always the last ion tested on each oocyte.
Pharmacology
Pharmacological experiments for tetraethylammonium (TEA) and for 4-aminopyridine (4-AP) were performed by creating a 100 mM stock of TEA or 4-AP in ND96 saline, and creating serial dilutions for the concentrations specified. These solutions were then perfused into the bath and left to incubate for the time specified.
Molecular modelling
The alignment of the N.at-K v 3.2 amino acid sequence and the rat K v 1.2 sequence was extracted from a multiple alignment of 790 voltage-gated potassium channel sequences. The cytoplasmic T1 domain sequence was truncated and the resulting alignment was used to create a homology model of N.at-K v 3.2 on the closed state model of the rat K v 1.2 channel proposed by Pathak and colleagues [18] using SWISS MODEL [35].
Declarations
Acknowledgements
This work was funded by a research grant from the Canadian Institutes of Health Research (MOP-62685) to A.N.S and W.J.G. TLK was supported by a postgraduate fellowship from the National Science and Engineering Research Council of Canada.
Authors' Affiliations
(1)
Department of Biological Sciences, University of Alberta, Edmonton, Canada
(2)
Malaspina University College, Nanaimo, Canada
Copyright
© Klassen et al; licensee BioMed Central Ltd. 2008
This article is published under license to BioMed Central Ltd. This is an Open Access article distributed under the terms of the Creative Commons Attribution License (http://creativecommons.org/licenses/by/2.0), which permits unrestricted use, distribution, and reproduction in any medium, provided the original work is properly cited.