Research article

Open Access
Kalrnplays key roles within and outside of the nervous system
BMC Neuroscience
2012
13:136
Received: 21 November 2011
Accepted: 22 October 2012
Published: 1 November 2012
Abstract
Background
The human KALRN gene, which encodes a complex, multifunctional Rho GDP/GTP exchange factor, has been linked to cardiovascular disease, psychiatric disorders and neurodegeneration. Examination of existing Kalrn knockout mouse models has focused only on neuronal phenotypes. However, Kalirin was first identified through its interaction with an enzyme involved in the synthesis and secretion of multiple bioactive peptides, and studies in C.elegans revealed roles for its orthologue in neurosecretion.
Results
We used a broad array of tests to evaluate the effects of ablating a single exon in the spectrin repeat region of Kalrn (KalSRKO/KO); transcripts encoding Kalrn isoforms containing only the second GEF domain can still be produced from the single remaining functional Kalrn promoter. As expected, KalSRKO/KO mice showed a decrease in anxiety-like behavior and a passive avoidance deficit. No changes were observed in prepulse inhibition of acoustic startle or tests of depression-like behavior. Growth rate, parturition and pituitary secretion of growth hormone and prolactin were deficient in the KalSRKO/KO mice. Based on the fact that a subset of Kalrn isoforms is expressed in mouse skeletal muscle and the observation that muscle function in C.elegans requires its Kalrn orthologue, KalSRKO/KO mice were evaluated in the rotarod and wire hang tests. KalSRKO/KO mice showed a profound decrease in neuromuscular function, with deficits apparent in KalSR+/KO mice; these deficits were not as marked when loss of Kalrn expression was restricted to the nervous system. Pre- and postsynaptic deficits in the neuromuscular junction were observed, along with alterations in sarcomere length.
Conclusions
Many of the widespread and diverse deficits observed both within and outside of the nervous system when expression of Kalrn is eliminated may reflect its role in secretory granule function and its expression outside of the nervous system.
Keywords
Neuromuscular junction
Rotarod
Grip strength
Anxiety
Passive avoidance
Rho-GEF
Background
Mammalian genomes encode 60–70 Rho GDP/GTP exchange factors (Rho-GEFs) and a similar number of Rho GTPase activating proteins (Rho-GAPs) to control the activation and inactivation of ~20 Rho-family GTPases [1]. The fact that mutations in individual Rho-GEFs are associated with specific disease phenotypes indicates that their functions are not redundant. For example, the KALRN gene, which encodes proteins with two Rho-GEF domains, has been associated with stroke [2], early onset coronary artery disease [2–5], schizophrenia [6–9] and adult attention deficit-hyperactivity disorder [10].
The mouse
Kalrn
gene includes multiple promoters and several 3
′
-untranslated regions which produce functionally distinct isoforms in a tissue-specific and developmentally regulated manner [
11
–
13
]. While some Rho-GEFs consist of little more than the catalytic Dbl-homology (DH) domain followed by a pleckstrin homology (PH) domain, Kalirin is a complex protein with multiple catalytic, protein/protein and protein/lipid interaction domains. The longest isoform, Kalirin12, contains a lipid-binding Sec14 domain, nine spectrin-like repeats, two active Rho-GEF domains, two SH3 domains, an Ig/FnIII domain, and a kinase domain [
14
] (Figure 
1
). The most abundant isoform in the adult brain, Kalirin7, is almost exclusively localized to the postsynaptic density (PSD) [
13
,
15
], and plays an essential role in dendritic spine formation and function [
16
–
19
]. Kalirin9 and Kalirin12 are more highly expressed during nervous system development [
20
] and are also expressed in heart, skeletal muscle and endocrine tissue [
20
,
21
]. The single
Kalrn
orthologue in
C.elegans
(
UNC-73
) and
Drosophila
(
dTrio
) plays essential roles both within and outside of the nervous system [
22
,
23
].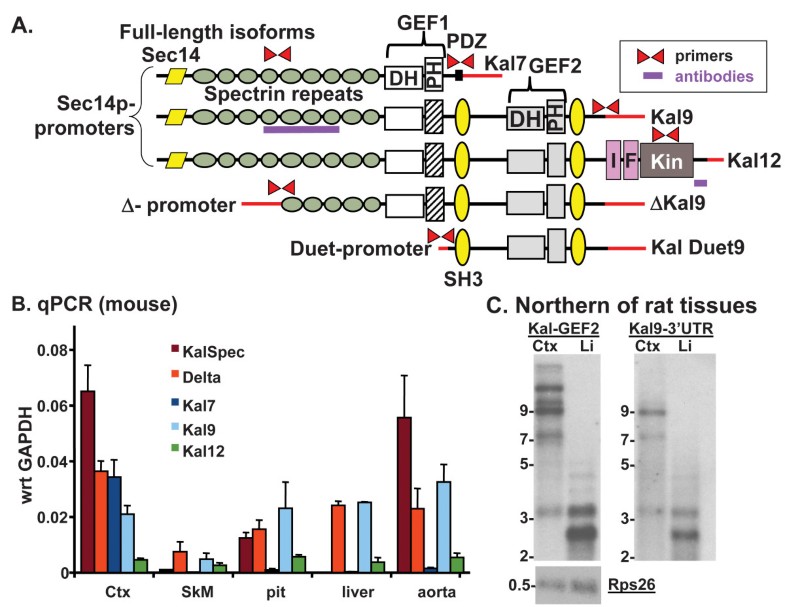 Multiple promoters and 3′-terminal exons in the Kalrn gene preclude elimination of all isoforms through deletion of any one region of the gene. A knockout mouse for the most prevalent form of Kalirin in the adult brain, Kalirin7, was generated by eliminating its unique 3′-exon (Kal7KO/KO) [13]. Kal7KO/KO mice have fewer dendritic spines in selected brain regions and exhibit impaired passive avoidance behavior, decreased anxiety-like behavior and accentuated locomotor sensitization to repeated cocaine treatment [13, 24]. Cahill et al. [25] replaced Kalrn exons 27 and 28, which encode part of the first GEF domain, with the neomycin resistance gene, generating the KalGEF1KO/KO mouse [25].
In this study, we flanked exon 13 in the spectrin repeat region with Lox-p sites (KalSRCKO/CKO); excision of this region makes it impossible to regain an in-reading-frame protein until exon 28. Global excision yielded KalSRKO/KO mice while breeding of KalSRCKO/CKO mice to mice expressing Cre-recombinase under control of the Nestin promoter largely limited excision to the nervous system (KalSRNesKO/NesKO). Based on our identification of Kalirin through its interaction with a secretory granule enzyme, the association of Kalrn with cardiovascular and psychiatric disease and the roles of UNC-73 in C.elegans, we searched for deficits caused by lack of Kalrn within and outside of the nervous system.
Methods
Creation of global and nervous system specific Kalrnknockout mice
The basic strategy for ablating exon 13 was the same as for the Kalirin7-specific exon [
13
]. The Δ isoforms of Kalirin start at exon 11; exon 13 was chosen because exon 12 would have to be spliced to exon 28, in the middle of the GEF domain (Figure 
2
), to remain in the correct reading frame. Lox-p sites were introduced 1.6 kb upstream (nucleotide 34254054 on chromosome 16, mm9, July 2007) and 0.6 kb downstream of exon 13 (a 175 nt exon) (nucleotide 34251804). The strategy for removing the neomycin resistance cassette using flipper mice, breeding the conditional knockout mice into C57Bl/6 (Jackson Laboratories) and eliminating exon 13 using Hprt-Cre females was as described [
13
]. Mice with Lox-p sites flanking exon 13 are referred to as Kalirin Spectrin Repeat Conditional Knockout (KalSR
CKO
) mice; after Cre-mediated excision of exon 13, mice are referred to as Kalirin Spectrin Repeat Knockout (KalSR
KO
) mice. Both strains have been bred more than 10 generations into the C57Bl/6 background. KalSR
CKO/CKO
and KalSR
+/CKO
mice are of normal weight, reproduce well and have an unaltered distribution and level of Kalirin isoforms. KalSR
+/KO
mice were bred to obtain KalSR
KO/KO
mice. KalSR
CKO/CKO
mice were crossed with C57Bl/6 mice expressing Cre recombinase under the control of the Nestin promoter [B6.Cg-Tg(Nes-cre)1Kln/J], to yield KalSR
NesKO
mice; expression of Cre recombinase outside of the nervous and endocrine systems is minimal in this mouse, with restricted expression in the vasculature (
http://jaxmice.jax.org/strain/003771.html
).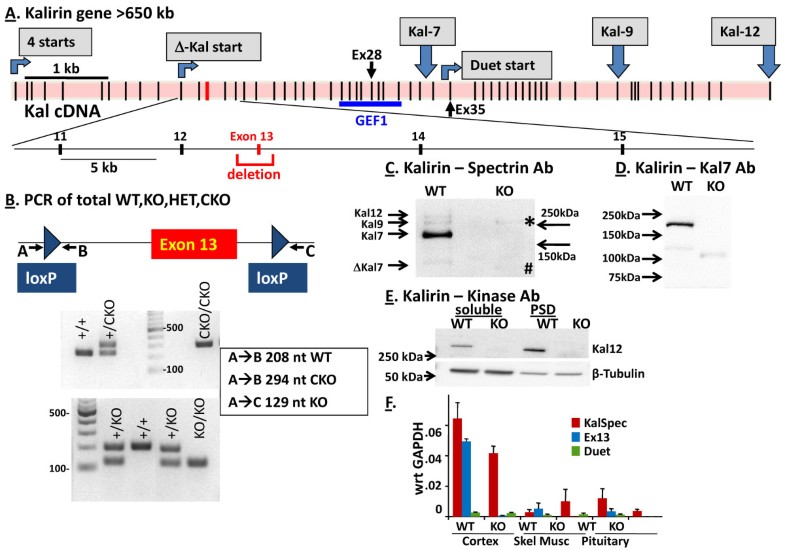 Behavioral studies
Animals were group housed in the Center for Comparative Medicine at the University of Connecticut Health Center (UCHC) with a 12 h light/dark cycle (lights on 7:00 am - 7:00 pm). All behavioral experiments were done in the Scoville Neurobehavioral Suite in accordance with UCHC Institutional Animal Care and Use Committee and National Institutes of Health guidelines. Male and female littermates 2 to 4 months of age were tested during the light phase. All animals were handled daily for at least 4 d before behavioral testing to minimize experimenter-induced stress. In addition, animals were allowed to habituate to the testing room for 1 h before testing. Animals were evaluated using several behavioral tests; the less stressful tests preceded those that were more stressful (open field→ elevated zero maze→ tail suspension test → prepulse inhibition of acoustic startle → rotarod→ grip test→ object recognition test→ passive avoidance test → restraint stress). Tests were separated by 2 or more days, and the same set of mice was used for all behavioral experiments. Open field, elevated zero maze, passive avoidance, and object recognition (male mice only) tests were performed as described [13]. Briefly, open field behavior was assessed by recording beam breaks for nine five-minute time bins using a San Diego Instruments clear Plexiglas chamber (38 cm × 38 cm). Naïve mice were placed onto the elevated zero maze facing into the closed area and the time spent in the open area (all four feet) was monitored for 5 min. Passive avoidance behavior was monitored using a San Diego Instruments 2-chamber box; a 0.3 mA × 2 s scrambled footshock was delivered at the end of the training period, when the mouse was in the dark chamber. Novel object recognition was performed by placing the mouse into a clean rat cage containing two Falcon tubes or two LEGOR objects and recording the time spent exploring each object over a three minute trial; the test was repeated the next day using the same object plus a novel object. The elevated zero maze and novel object recognition tests were videotaped and scored by a blinded observer. Data for male and female mice were analyzed separately; when no difference was observed, data were pooled.
Tail suspension
After taping the tail to a bent coat hanger, mice were suspended 70 cm above the floor of the cage for 6 min. Mice were videotaped and total time spent immobile (defined as the complete cessation of movement) was scored manually.
Rotarod
Training sessions (3 days, 3 trials per day) were conducted to acclimate the mice to the rotarod apparatus (Med Associates, VT). Motor coordination was assessed by measuring the length of time each mouse remained on the rotating rod as it accelerated from 4 to 40 rpm over a period of five min. On the 4th day, mice were tested in the same way three more times and the mean was used as the measure of competence at this task.
Wire hang
Two parallel steel wires 8 cm long and separated by 2 cm were anchored to the middle of a cardboard (40 cm  ×  22 cm); a 2 cm space separated the wires from the cardboard enabling a mouse to grip the wires with all four feet but not to climb onto the wires. The cardboard was suspended 30 cm above a rat cage containing bedding to prevent injury. Mice were trained for 3 days; on the fourth day, time spent suspended from the wires was measured. On the testing day, each mouse underwent 3 trials and the mean value was used to determine wire hang time.
Acute restraint stress
When behavioral testing was finished, mice were returned to their home cages for a week. Blood collected via submandibular puncture two days prior to restraint stress was used for measuring basal serum corticosterone levels. Restraint stress was performed between 10:00 AM and noon by placing mice into ventilated 50-ml plastic tubes for 15 minutes. Mice were then sacrificed by decapitation; serum prepared from trunk blood was stored at −80°C until assayed for corticosterone (MP Diagnostics) and peptidylglycine α-hydroxylating monoxygenase (PHM activity) [26].
Prepulse inhibition of the acoustic startle response
Male mice were subjected to acoustic startle testing and measurement of prepulse inhibition (PPI) using two identical startle chambers (San Diego Instruments) essentially as described for rats [27]. Mice were placed into a clear acrylic cylindrical chamber enclosed in a sound- and vibration-attenuating cabinet equipped with a 5 W bulb and ventilation fan. The chamber containing the mouse sits on a base that contacts a piezoelectric accelerometer that detects the whole body startle response. Output signals from the accelerometer are collected as 75 sequential 1 msec measurements starting at the onset of the startling stimulus (120 dB, 40 msec). Mice were allowed five min of acclimation prior to delivery of the stimuli over a 70 dB white noise background. The first and last six trials of the session consisted of the startle stimulus alone (120 dB, 40 ms). Trials occurred in a random order and consisted of 12 startle alone trials to calculate % PPI and 12 prepulse + startle trials at each of 5 prepulse intensities (3, 6,12,15,18 dB), and 8 no stimulus trials. Prepulse stimuli (20 ms) preceded startle stimuli by 100 ms. Accelerometer signals were rectified and digitized using SR-LAB (San Diego Instruments). Chambers were calibrated daily and matched for sound intensity [27].
Cardiovascular measurements
Blood pressure was measured using a non-invasive CODA tail-cuff blood pressure occlusion system (Kent Scientific). Measurements were taken in a quiet area away from other activity. Conscious animals were introduced into restraining chambers that were placed onto a preheated pad maintained at 30°C; tail temperature was measured using an infrared sensor and blood pressure measurements were initiated when tail temperature reached 30°C. Mice were trained for three days and on the fourth day BP recordings were made. Each measurement consisted of 5 acclimatization cycles followed by 15 blood pressure measurement cycles.
Biochemical analyses
Analysis of DNA and RNA
DNA prepared from ear or tail snips [
13
] was used for genotyping with the primers shown in Figure 
2
B: A, TGTATGCCTTGGAAACAGGC; B, TGTTTTGCCATCGGGAGGAT; C, TGCAAGGAACATCGGGCTTT. The annealing temperature was 51°C (for 60 sec), elongation was at 72°C for 30 sec, repeated 42 times. Tissue RNA was prepared using Trizol as described [
28
]. Preparation of cDNA, quantitative polymerase chain reaction (qPCR) primers and conditions were as described for GAPDH, Kal7, Kal9, Kal12, Delta, and Kal-Spectrin [
28
]. New primers used in this study are shown in Table 
1
.
Table 1
Primers specific for Exon 13 and Duet
| Kalirin domain | Oligo name | Sequence | Tm(°C) | Length (nt) |
| --- | --- | --- | --- | --- |
| Exon 13 | Ex13-for | CTCAGCGATGTCCAACAACAAGACACC | 61 | 121 |
| | Ex13-rev | GAAGAGCTGTTTCACGAGCGGAAGATC | 61 | |
| Duet | Duet-for | CTGAAGTTTCCTACCGCCGCGC | 60 | 122 |
| | Duet-rev | AGCCCAAAGAGGGACCTCGGG | 60 | |
Western blot analysis
Tissue fragments were solubilized in SDS lysis buffer [29] with protease inhibitors added at 10 μg/ml (benzamidine, leupeptin, soybean trypsin inhibitor, and aprotinin). After solubilization at 95°C, extracts were cleared of insoluble debris by centrifugation at 14,000 × g. Solubilized protein was quantified using a bicinchoninic acid assay with bovine serum albumin as the standard (Pierce). SDS-PAGE and immunoblotting with enhanced chemiluminescence were performed as described [13]. Rabbit antiserum JH2582 (raised to recombinant Kalirin spectrin repeats 4 to 7) and affinity-purified rabbit antiserum JH3225 (raised to the C-terminus of Kal12) [11] were visualized using horseradish peroxidase-conjugated anti-rabbit IgG.
Secretion of growth hormone (GH) and prolactin (PRL)
Pools of adult male or female mouse pituitaries were used to prepare cultures as described [30]. Cells were plated at a density of 1.5 pituitaries per well in a protamine coated 96 well plate. Primary cells that had been maintained in culture for 2–3 days were pre-rinsed 2–3 times (15–30 min each) with secretion medium (complete serum-free medium [CSFM] containing 0.2 mg/ml BSA). To measure basal secretion cells were fed with secretion medium for 30 min and the fraction was collected. Following the basal collection, secretagogue stimulated secretion was initiated by adding medium containing 2 mM BaCl2 and/or 1 μM phorbol myristate acetate (PMA) for 30 min. Cells were harvested at the end of the secretion paradigm. Spent media (16% of sample) and cell lysates (1.6% of sample) were subjected to SDS-PAGE and western blot analysis using antibodies to GH (JH89) [31] or PRL (IC-5, National Hormone and Peptide Program [NIDDK, National Institutes of Health]); cell content of hormone was normalized to γ-adaptin (BD Transduction Laboratories).
Visualization of neuromuscular junctions and muscle fine structure
Light microscopy
Nicotinic acetylcholine receptors (AChRs) were visualized in tibialis and diaphragm muscle using α-bungarotoxin-tetramethylrhodamine (Sigma-Aldrich, St. Louis, MO) as described [32]. Images were coded and neuromuscular junctions in tibialis muscle were categorized as normal (pretzel-shaped) or open (broken-pretzel). Our categorization was based on the criteria used to distinguish mature neuromuscular junctions from immature (plaque-shaped and partially differentiated) junctions [32]; each neuromuscular junction photographed en face was categorized as "normal" or "open" based on the number of discontinuities observed in its pretzel-like structure; we did not observe immature junctions in the adult tissue examined.
Electron microscopy
Animals were perfused transcardially with 4% paraformaldehyde (in 0.1 M sodium phosphate buffer, pH 7.4) under deep anesthesia with ketamine/xylazine. After fixation, the diaphragm was dissected out and placed into 4% paraformaldehyde in PBS for one hour. Diaphragm muscle was then incubated in PBS containing fluorescently-labeled α-bungarotoxin (100nM) at 4°C overnight. Neuromuscular junctions (NMJ) were identified under a fluorescence microscope and areas with NMJ's were dissected out as 2mm cubes and processed for electron microscopy. The small cubes were further fixed with 2.5% glutaraldehyde in 0.1M sodium cacodylate buffer, pH 7.2 at 4°C. The following day, tissue was rinsed with cacodylate buffer and postfixed in 1% osmium tetroxide, 0.8% potassium ferricyanide in 0.1M cacodylate buffer for 1h at room temperature. Following standard procedures for dehydration, the tissues were embedded in Spurr resin. Ultrasections contrasted with uranylacetate were viewed on a Hitachi H-7650 transmission electron microscope and photographed. Coded images of neuromuscular junctions and muscle were scored by a blinded observer. Neuromuscular junctions with well defined boundaries containing neurotransmitter vesicles were considered for analysis. The number of neuromuscular junction folds per length of junction was measured using MetaMorph. The length of the sarcomere, A-band, I-band and Z-band was measured using MetaMorph. Data were obtained from three mice of each genotype.
Statistical analyses
Data are presented as average ± SEM. Statistical analyses were performed with GraphPad Prism 4.0 (GraphPad Software, Inc., San Diego, CA, USA) or SPSS software. Data were analyzed using a t-test or one-way ANOVA with Bonferrroni correction as appropriate. Two-way repeated measures ANOVA was used to analyze the interaction between genotype and time in the open field or genotype and prepulse inhibition in the PPI test.
Ethics statement
Consistent with granting approval, the respective UCHC committees (Institutional Animal Care and Use Committee; Safety) assessed the protocol to ensure the humane use and ethical care of vertebrate animals and the safety of employees. The UCHC Office of Compliance has rigorous policies and a well-established process for vetting actual or potential conflicts of interest. Prior to accepting a grant award, the Office of Research and Sponsored Programs, which serves as the institutional office responsible for submission of applications and administration of awards, coordinates and verifies that all proposed research has been approved by the committee having jurisdiction over the matter.
Discussion and conclusion
Genetic linkage studies and analyses of post-mortem tissue have associated human KALRN with a wide array of neuropsychiatric and cardiovascular diseases [6, 7, 10, 24, 25, 39, 48]. Detailed studies of the actions of Kalirin7, the major isoform in the adult nervous system, identified several pathways through which Kalirin7 can participate in spine formation and synaptic plasticity [13, 17, 18, 49–51], but have not provided insight into the roles played by other Kalirin isoforms within or outside of the nervous system. Analysis of the C. elegans and D. melanogaster ortholog of Kalrn revealed essential roles for this gene both within and outside of the nervous system [52–55]; neither species has an isoform similar to Kalirin7.
Declarations
Acknowledgements
We thank Darlene D'Amato, Yanping Wang and Taylor Larese for tireless lab assistance and Dr. Qian Wu for her help interpreting electron micrographs of skeletal muscle. This work was supported by NIH grant DK-32948.
Authors' Affiliations
(1)
Department of Neuroscience, University of Connecticut Health Science Center, Farmington, USA
(2)
Molecular Microbial & Structural Biology, University of Connecticut Health Science Center, Farmington, USA
(3)
Psychiatry, University of Connecticut Health Science Center, Farmington, USA
(4)
Connecticut Institute Clinical Translational Science, University of Connecticut Health Science Center, Farmington, USA
Copyright
© Mandela et al.; licensee BioMed Central Ltd. 2012
This article is published under license to BioMed Central Ltd. This is an Open Access article distributed under the terms of the Creative Commons Attribution License (http://creativecommons.org/licenses/by/2.0), which permits unrestricted use, distribution, and reproduction in any medium, provided the original work is properly cited.